Recently, the E-learning Committee of the Faculty of Pharmacy UiTM organised the first series of e-Microlearning webinars over a period of three weeks from 23 February - 11 March 2021. The series was aimed to give exposure to the Faculty members on the global mindset, current trends and best practices in the 21st century teaching and learning (T&L).
The e-Microlearning webinars featured top Malaysia experts on e-Learning:  Professor Dr. Abd Karim Alias, Director of the Centre for Development of Academic Excellence at Universiti Sains Malaysia and Dr. Nurbiha A Shukor, Deputy Director (Teaching and Learning) at Universiti Teknologi Malaysia's Center of Academic Leadership. Together with the Faculty members, the speakers shared their best practices and strategies in open distance learning (ODL).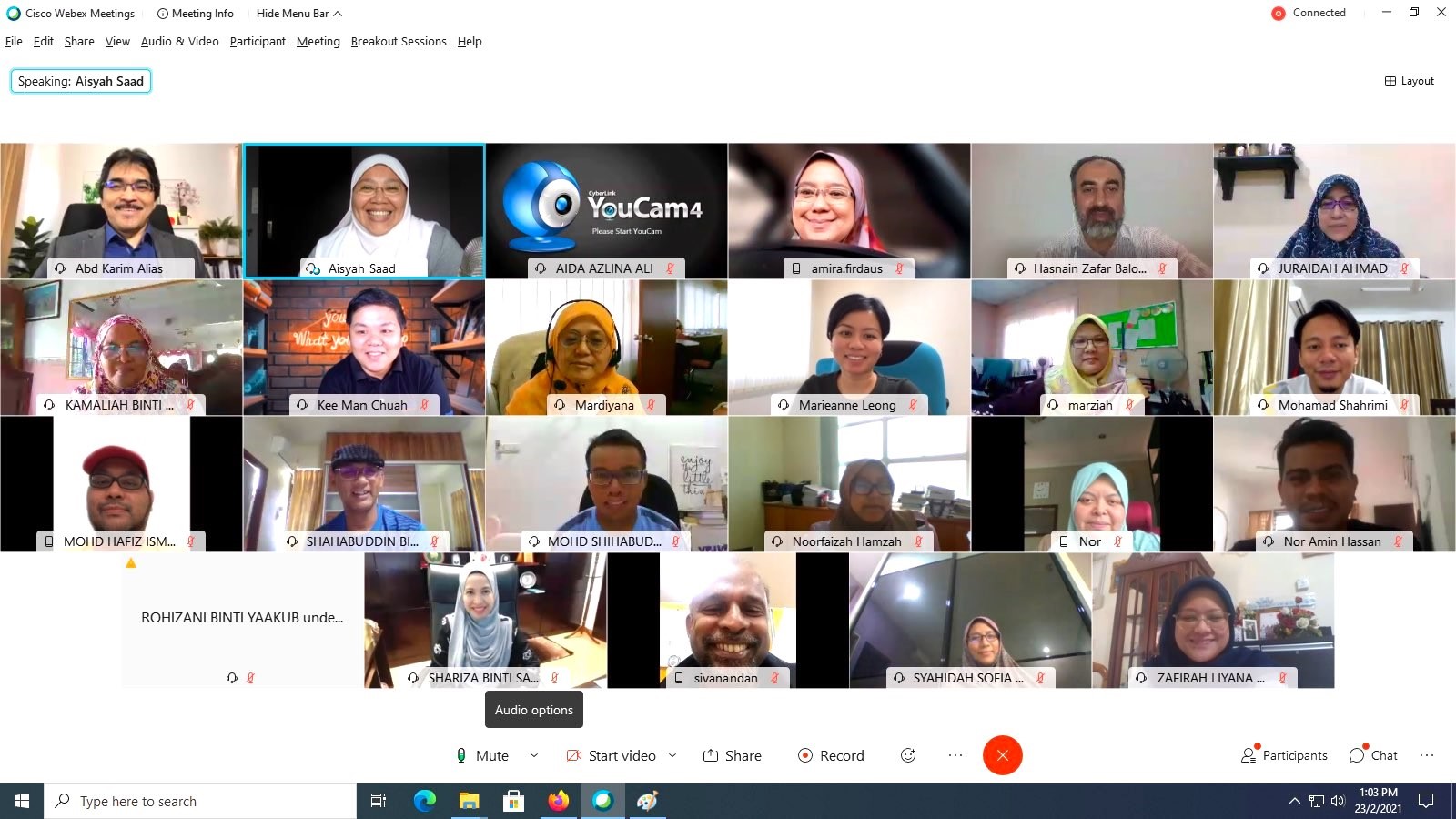 A screenshot of academic participants at the first e-Microlearning webinar delivered by Prof. Dr. Abd Karim Alias via Cisco Webex.
In the first microlearning session, Prof. Abd Karim Alias delivered an engaging 2-hour talk titled "Secret Garden and the Global Classroom". In the talk, Prof. Karim made a compelling case to convince the participant, many were Malaysian educators, to embark on open education, and be a part of a huge community of global educators. This was followed by an interesting talk by Dr. Suraya Adina Suratman, UiTM ODL Award 2020 winner. She shared many tips and ideas on implementing good practices in e-Learning: contents, communication & feedback and using Youtube analytics for students' engagement. Since designing online learning can be very different from face-to-face learning, in the third webinar, Dr. Nurbiha outlined how one can design a more engaging online learning based on Communities of Inquiry (COI) framework.
The e-Microlearning webinars continued with the fourth sharing session by Dr. Hanis Hanum. She described challenges that her team faced and managed to successfully surmounted in implementing Virtual OSCE sessions for a large number of pharmacy students (over 150). In the fifth webinar, Associate Professor Dr. Choo Chee Yan shared how she used Google Form to create a virtual practical that combines with assessment. This allows efficient time management for busy educators. Last but not least, in the sixth webinar, Associate Professor Dr. Aisyah Saad talked about her journey from a secret garden to creating a MOOC. She also discussed three models and apps in designing an interactive session that grabs students' attention and sustains it during a lecture, whether it's blended learning, hybrid learning or ODL.
The first series of e-Microlearning webinars were well-received with an attendance of over 600 participants in total, mostly from academics in Malaysia's higher institutions. It is our hope that the e-Microlearning series would continue as a platform that supports UiTM strategic planning in promoting teaching innovations, academic visibility and fosters sharing of experiences and best practices in higher education.
Click on the following link to watch the webinars:
https://www.youtube.com/playlist?list=PLzy5AP9f4oWCbnWQ0V3OtAaW81_dEvFo_
Prepared by: Assoc. Prof. Dr. Aisyah Saad Abdul Rahim.
Photo credit: Cik Norazua Ahmad