CALL FOR ATTENDEES: Virtual International Research Network Initiative (IRNI) and International Postgraduate Conference on Pharmaceutical Sciences (
IPoPS
) 2021
Assalamualaikum WBT & a very good day.

Dear YBhg Dato'/Datuk/Datin/Prof/Dr/Sir/Mdm,

The Faculty of Pharmacy UiTM will be organizing the Virtual International Research Network Initiative (IRNI) and International Postgraduate Conference on Pharmaceutical Sciences (IPoPS) on 28 - 29th September 2021. This virtual joint symposium is jointly co-organized with Tokyo University of Science (TUS) Japan and International Medical University (IMU) Malaysia aimed to promote collaboration among academicians, healthcare practitioners, industry professionals and students in research related to the pharmaceutical sciences field. Keeping in mind to create greater collaboration opportunity, we invited speakers from prominent universities namely Queen's University Belfast (QUB) UK, Institut Teknologi Bandung (ITB) Indonesia, Mahidol University Thailand, Gandhi Institute of Technology and Management (GITAM) India, University of Santo Tomas Philippines and Juntendo University Japan.


Attendees interested to join the event are welcome to register at this link: Register_IRNI-IPOPS2021  by 26th September 2021.
MPS CPD 6 credit points under A3  and training hours ( for UiTM staff) available for this event 
DETAILS OF PAYMENT:
Account name: Bendahari UiTM
Account number: 12168010003457
Bank Name: BIMB (Bank Islam Malaysia Berhad)
Bank Address: Bank Islam, Su Mall, No. 1G, 2G & 36G, Saujana Utama, 47000, Selangor, Malaysia
SWIFT code: BIMBMYKL

Reference:IRNI-IPoPS2021
Please refer to the event poster for registration fee details.

Feel free to visit our website https://qrgo.page.link/JUXnE  and spread the information pertaining to this event to your colleagues, staff and students. If you have any questions, please do not hesitate to contact us at This email address is being protected from spambots. You need JavaScript enabled to view it..
Best Regards,
Secretariat Virtual International Research Network Initiative (IRNI) and International Postgraduate Conference on Pharmaceutical Sciences (IPoPS) 2021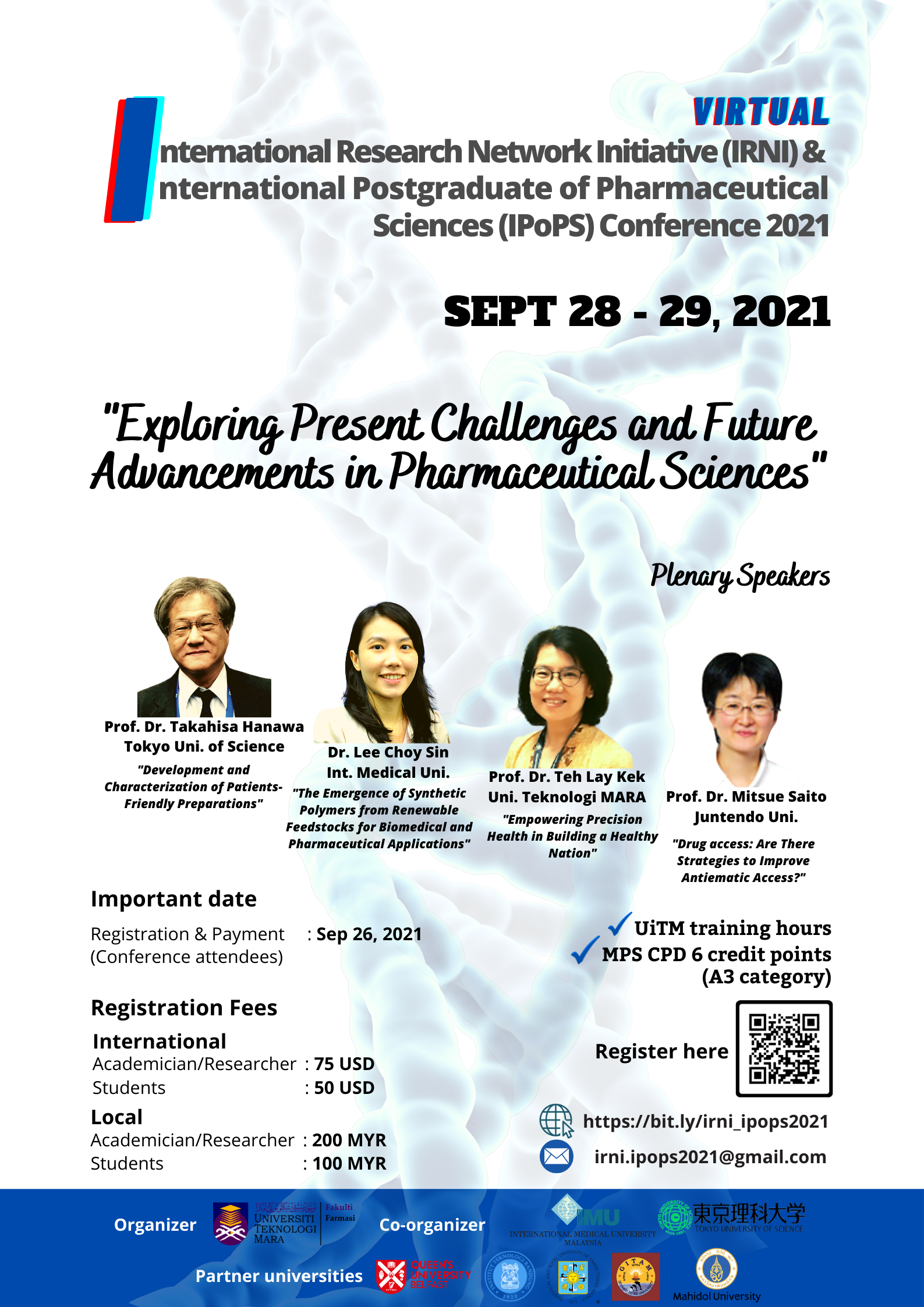 Programme tentative (Day 1 & Day 2)
Time

Day 1 (28th Sept. 2021)

Time

Day 2 (29th Sept. 2021)

 8:30-9:10

 8.30


 8.35

 8.40



 8.45




 8.50




 8.55

 

 Opening Ceremony

 Mc: Mr. Ahmad Azani & Pn. Nadia
 *Housekeeping announcements

 Doa Recitation: Mr. Mohammad Humayoon  Amini

 Welcoming Remarks
 Dr. Siti Alwani Ariffin
 Chairman IRNI & IPoPS 2021

 Welcoming Remark TUS
 Prof. Satoru Miyazaki,
 Dean of Faculty of Pharmaceutical Sciences, 
 Tokyo University of Science, Japan

 Welcoming Remark IMU
 Assoc. Prof. Dr Mohd Zulkefeli Mat Jusoh
 Dean, School of Pharmacy,
 International Medical University (IMU), Malaysia

 Welcoming & Officiating Speech
 Assoc. Prof. Dr Shariza Sahudin
 Dean, Faculty of Pharmacy UiTM, Malaysia

 -Corporate Video
 -Traditional Dance Video

 Group Photo

 8.30-9.20

 Plenary 3 - Universiti Teknologi MARA (UiTM),
 Malaysia (40 min; Q&A 10 min)

 Prof. Dr. Teh Lay Kek

 Title: Empowering precision health in building a healthy nation

 9:10-10.00

 Plenary 1 - Tokyo University of Science (TUS) Japan
 (40 min; Q&A 10 min)

 Prof. Dr. Takehisa Hanawa

 Title: Development and Characterization of Patient-Friendly Preparations

 9.20-10.00

 Invited lecture - Mahidol University Thailand 
 (30 min; Q&A 10 min)

 Dr. Pakatip Ruenraroengsak

 Title: The development of 3D-liver models for drug toxicity study and cancer drug delivery

 10.00-10.40

 Invited lecture - Institut Teknologi Bandung (ITB) Indonesia
 (30 min; Q&A 10 min)

 Dr. Muhammad Insanu

 Title: Standardization of Sida Rhombifolia extract from 4 different areas of west java using a metabolomic approach

 10.00-10.40

 Invited lecture - Gandhi Institute of Technology and Management (GITAM) India
 (30 min; Q&A 10 min)

 Dr Sinoy S

 Title: Small molecule inhibitors of miRNAs: An Alternate Approach to Elicit Neuroprotection

 10.40-11.00

 Tea Break (Pre-Recorded Poster Presentation Session)

 10.40-11.00

 Tea Break (Pre-Recorded Poster Presentation Session)

 11:00-13.00

 Oral presentation session 1 (live session) breakout sessions (BS)

 BS 1 - Clinical Pharmacy & Pharmacy Practice

 BS 2 - Pharmaceutics & Pharmaceutical Technology

 BS 3 - Pharmacology & Toxicology

 BS 4 - Medicinal & Pharmaceutical Chemistry

 BS 5 - Other Fields: Pharmaceuticals, Nutraceuticals, and Cosmetic Sciences

 11.00-13.00

 Oral presentation session 2 (live session) breakout sessions (BS)

 BS 1 - Clinical Pharmacy & Pharmacy Practice

 BS 2 - Pharmacognosy & Phytochemistry

 BS 3 - Pharmacology & Toxicology

 BS 4 - Medicinal & Pharmaceutical Chemistry

 BS 5 - Other Fields: Pharmaceuticals, Nutraceuticals, and Cosmetic Sciences

 13:00-14:00

 Lunch Break (Pre-Recorded Poster Presentation Session)

 13:00-14:00

 Lunch Break (Pre-Recorded Poster Presentation Session)

 14:00-14:50

 Plenary 2 - International Medical University (IMU) Malaysia
 (40 min; Q&A 10 min)

 Dr. Lee Choy Sin

 Title: The emergence of synthetic polymers from renewable feedstocks for biomedical and pharmaceutical applications

 14.00-14.50

 Plenary 4 - Juntendo University Japan
 (40 min; Q&A 10 min)

 Prof. Dr. Mitsue Saito 

 Title: Drug accessーAre there Strategies to Improve Antiemetic Access?

 14:50-15.30

 Invited lecture - Queen's University Belfast (QUB) UK
 (30 min; Q&A 10 min)

 Dr. Raghu Raj Singh Thakur

 Title: Understanding Challenges and Developing Innovative Drug Delivery Systems in Treating Ocular Disorders

 14.50-15.30

 Invited lecture - University of Santo Tomas Philippines
 (30 min; Q&A 10 min)

 MR. ROI MARTIN B. PAJIMNA,

 Title: Monitoring Neonatal Aminoglycoside Therapy in a Resource-Limited Setting: Gaps and Opportunities

 15.30

 End of Day 1

 15.30-15.40

 Promotion of IPoPS 2022

 15.40

 Closing & Ceremony Award


 Closing Remarks by Co-Chairman

 Award Presentations

 Closing speech by the Dean, UiTM

 End of Program