OBJECTIVE QUALITY FACULTY OF PHARMACY 2019-2025
Objective 1
Mencapai enrolmen 800 pelajar menjelang 2025

Mencapai nisbah 1:8 bagi pensyarah farmasi kepada pelajar tahun akhir Sarjana Muda Farmasi

To achieve 800 students enrolment by 2025

To attain 1: 8 ratio for pharmacy lecturers to Bachelor of Pharmacy final year students
Objective 2
Memastikan 100% kurikulum melalui proses semakan sekurang-kurangnya sekali dalam tempoh 3 hingga 5 tahun
To ensure 100% of the curriculum has been reviewed at least once within 3 to 5 years
Objective 3
Memastikan peningkatan peratusan pelajar bergraduat dalam tempoh yang ditetapkan (GOT) menjelang 2025 mengikut peringkat pengajian:
90% pelajar sepenuh masa Diploma & Sarjana Muda
90% pelajar Sarjana (Kerja Kursus)
15% pelajar Sarjana (Penyelidikan) dan
20% pelajar PhD
 

Peratusan graduan dengan PNGK 3.5 ke atas

25% Diploma & Sarjana Muda
60% Sarjana (Kerja Kursus)
To ensure the increase in percentage of graduate-on-time students (GOT) in 2025 according to study level:
90% full time Diploma and Bachelor students
90% Masters (by Coursework) students
15% Masters (by Research) students
20% PhD students



Percentage of graduates with CGPA 3.5 and above

25% Diploma & Bachelor
60% Masters (by Coursework)
 Objective 4

Memastikan sekurang-kurangnya 30 graduan PhD bergraduat dari Fakulti Farmasi menjelang 2025:

Memastikan sekurang-kurangnya 10% pelajar PhD adalah dari luar negara menjelang 2025
To ensure a minimum of 30 PhD graduates from Faculty of Pharmacy by 2025:

To ensure at least 10% of PhD graduates are foreign PhD students by 2025
 Objective 5
Memastikan keboleh pasaran siswazah melebihi:

90% (Sarjana Muda)
15% (Diploma)
5% (bekerja sendiri)

To ensure the employability of graduates exceeds:

90% (Bachelor)
15% (Diploma)
5% (self-employed)
Objective 6
Memastikan bilangan penerbitan berindeks mencapai 700 menjelang 2025
To achieve 700 indexed publications by 2025
Objective 7
Memastikan nilai geran penyelidikan mencapai RM 20 juta menjelang 2025
To ensure the amount of funding from research grants reaches RM 20 million by 2025
Objective 8
Memastikan kecemerlangan dalam pemindahan ilmu dengan mengkomersialkan 2 produk hasil penyelidikan menjelang 2025
To ensure the excellence in knowledge transfer by commercialization of 2 research products by 2025
Objective 9
Memastikan 70% pensyarah adalah berkelayakan PhD menjelang 2025
To ensure 70% of lecturers are PhD qualified by 2025
UiTM QUALITY ASSURANCE & ENHANCEMENT POLICY
"This document describes the policy for quality assurance and enhancement applicable to all UiTM campuses, faculties and departments. Through this policy, all responsibility centres (RC) shall ascertain the compliance with applicable standards and expectations. This policy governs the need for RC to monitor the effectiveness of their activities aimed at meeting the said standards, manage risk and confirm corrective as well as improvement actions in meeting university's targets. This document will be referred to as The Quality Assurance and Enhancement Policy (QAEP)".
-QAEP Version 2-
VICE CHANCELLOR QUALITY AWARD (ANUGERAH KUALITI NAIB CANSELOR)

UiTM quality award which is inspired and based on Malcolm Baldridge framework to recognize quality movement and serves as an initiative to appreciate RCs which have shown seriousness in promoting high-quality work.

QUALITY PROCEDURES

Standard Operating Procedure (SOP) used as a reference to carry out routine operations which consists of set of step-by-step instructions compiled and documented to help the staff of RC in the execution of routine operations.

OPERATIONAL EXCELLENCE

Operational excellence involves strategy, methodology and implementation of approaches to strive for efficacy throughout an organization's processes and operations. It focuses on the needs of customers, empower employees and enhance the performance of existing activities of an organization.

SELF REVIEW REPORT & PROGRAM SELF REVIEW REPORT

Institutional and program-based evaluation of the RC's performance to ensure compliance to all requirements. The reports are prepared at regular intervals by a team of committee to identify weaknesses and to strategize corrective measures.
Manage and update Quality Management documents (eg: Quality Manual, Quality Procedures) of the Faculty according to ISO9001:2015 iQMS format.
Prepare Self Review Report (SRR & PSRR) and other documents related to Quality Management.
Conduct an investigation based on audit findings/complaints from customer feedback/ any other relevant channels for corrective and remedial measures to be presented in MKSP.
Function as facilitator to implement Quality Management activities of RC such as Operational Excellence (OE) and KIK.
Carry out instructions or other relevant tasks that are appropriate to Quality Management portfolio as assigned by the CQO (Dean) and UiTM.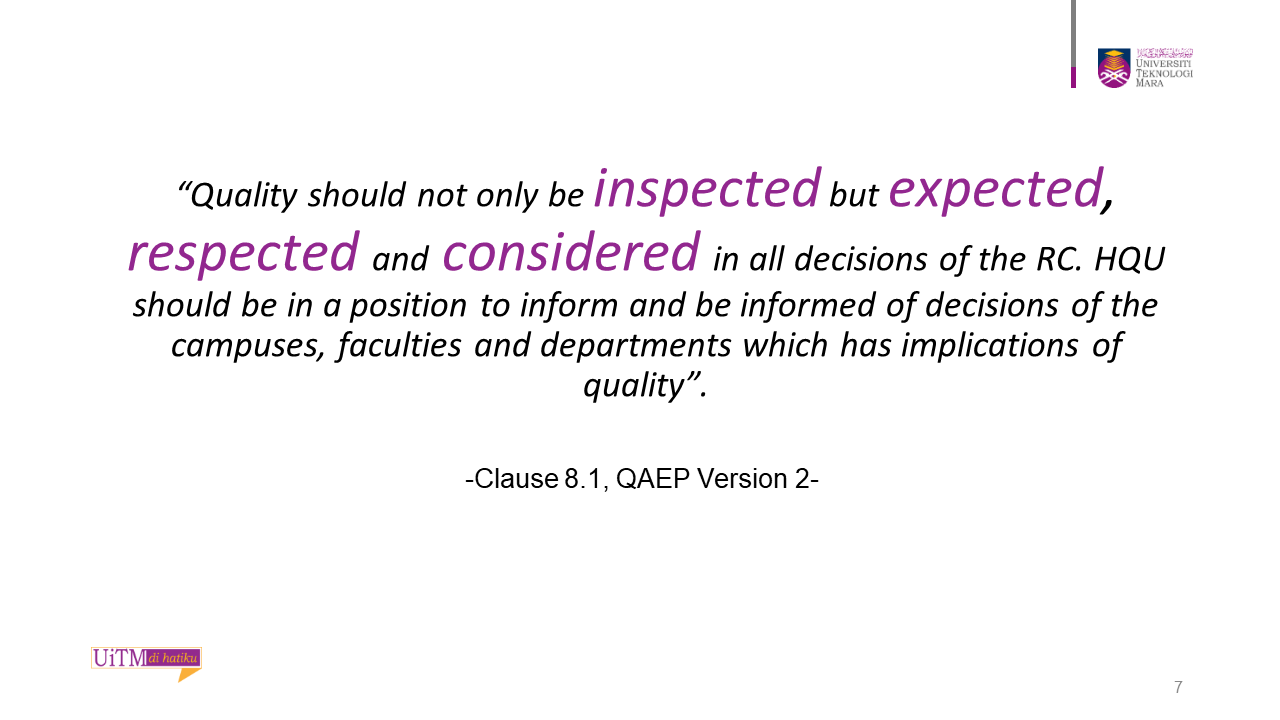 Responsible to the Chief Quality Officer (CQO) to draft, plan, and manage the development and implementation of goals, objectives, policies, procedures and systems related to quality and quality assurance.
Develop, implement, communicate, and maintain quality plans of RC to ensure compliance with all regulatory requirements, standards and regulations.
Plan, coordinate, and monitor UiTM's quality movements / activities / infrastructures (such as KIK, Hari Kemuncak Inovasi, implementation and maintenance of Quality Management System, Self-Assessment, Audit, AKNC, and Operational Excellence).
Update quality-related information in RC and deliver it to all RC staff. Act as a focal point for the quality implementation.
Become an InQKA intermediary to move the quality in line with UiTM's goal.
Manage and participate in External Examiner's visits and assessments.
Ensuring the Quality Management System processes are realized, implemented and maintained.

Report to the management on the performance of the Quality Management System and improvement requirements of the PTJ.

Ensure staff are aware of the customer's need for continuous improvement of the Quality System.

Responsible as a Liaison Officer to stakeholders for any Quality Management System.

Report to the management if the need for quality resources is insufficient.

Coordinate and managing all risk assessment issues