INTRODUCTION
The Faculty of Pharmacy, Universiti Teknologi MARA (UiTM) has been operating at the Puncak Alam Campus since 1st June 2009. By approving the facilities provided in the new campus, UiTM's Top Management appointed Faculty of Pharmacy to manage and maintain LAFAM. This animal facility  is currently used by the researchers of UiTM's academic staff and other collaborators. The animal facility has its own four storey building with sophisticated equipment to house the laboratory animals. The animals are maintained to the highest ethical standards.
The Ethics followed in LAFAM is based on the principal of THE FIVE FREEDOMS
Freedom from Hunger and Thirst - by ready access to fresh water and diet to maintain full health and vigour
Freedom from Discomfort - by providing an appropriate environment including shelter and a comfortable resting area
Freedom from Pain, Injury or Disease - by prevention or rapid diagnosis and treatment
Freedom to Express Normal Behavior - by providing sufficient space, proper facilities, and company of the animal's own kind
Freedom from Fear and Distress - by ensuring conditions and treatment which avoid mental suffering
VISION
To advance excellence in the Laboratory Animal Care Profession
To promote the understanding of Laboratory Animal Research
To be a centre of research excellence and to be at the frontiers of Laboratory Animal Care in Malaysia
MISSION
To establish LAFAM as a class of reputable animal care and welfare and a reference centre for biomedical research in Malaysia.
GOAL
To make sure this animal facility practices a Good Laboratory Practice/ Association for Assessment and Accreditation of Laboratory Animal Care (GLP/AAALAC).
To provide a better place to accommodate controlled environments for the care and maintenance of experimental animals.
To breed experimental animals to cater to the faculty's need (for research and teaching/practical sessions).
To promote and enhance collaborations in research with other researchers outside UiTM.
Services

Person in Charge

Wistar Kyoto Rat (WKY)
Workshop on Clinical Parasitology on Laboratory Animals

Abdul Halim Tormizi
Assistant Veterinary Officer (AVO)
013-595 2436
This email address is being protected from spambots. You need JavaScript enabled to view it.

Wistar Kyoto Rat (WKY)
Workshop on Laboratory Rabbit Care and Use

Mohamad Bashir Yaacob
Assistant Veterinary Officer (AVO)
017-534 0590
This email address is being protected from spambots. You need JavaScript enabled to view it.

BALB/C Mice
Purchasing / Quotation Laboratory Use Charges

Mohammad Fadhli Mohd Azahar
Assistant Veterinary Officer (AVO)
017-267 8808
This email address is being protected from spambots. You need JavaScript enabled to view it.

Sprague Dawley Rat (SD)
Special Course for Undergraduates on Laboratory Rodents (Rats and Mice) Care and Use

Nurlin Shafarah Md. Jaffar
Assistant Veterinary Officer (AVO)
019-339 9952
This email address is being protected from spambots. You need JavaScript enabled to view it.

Sprague Dawley Rat (SD)
Secretariat UiTM Care Ethics

Nur Hidayah Husin
Assistant Veterinary Officer (AVO)
019-222 2044
This email address is being protected from spambots. You need JavaScript enabled to view it.

ICR Mice
Workshop on Laboratory Rodents (Rats and Mice) Care and Use

Nurul Aini Baharom
Assistant Veterinary Officer (AVO)
012-250 7115
This email address is being protected from spambots. You need JavaScript enabled to view it.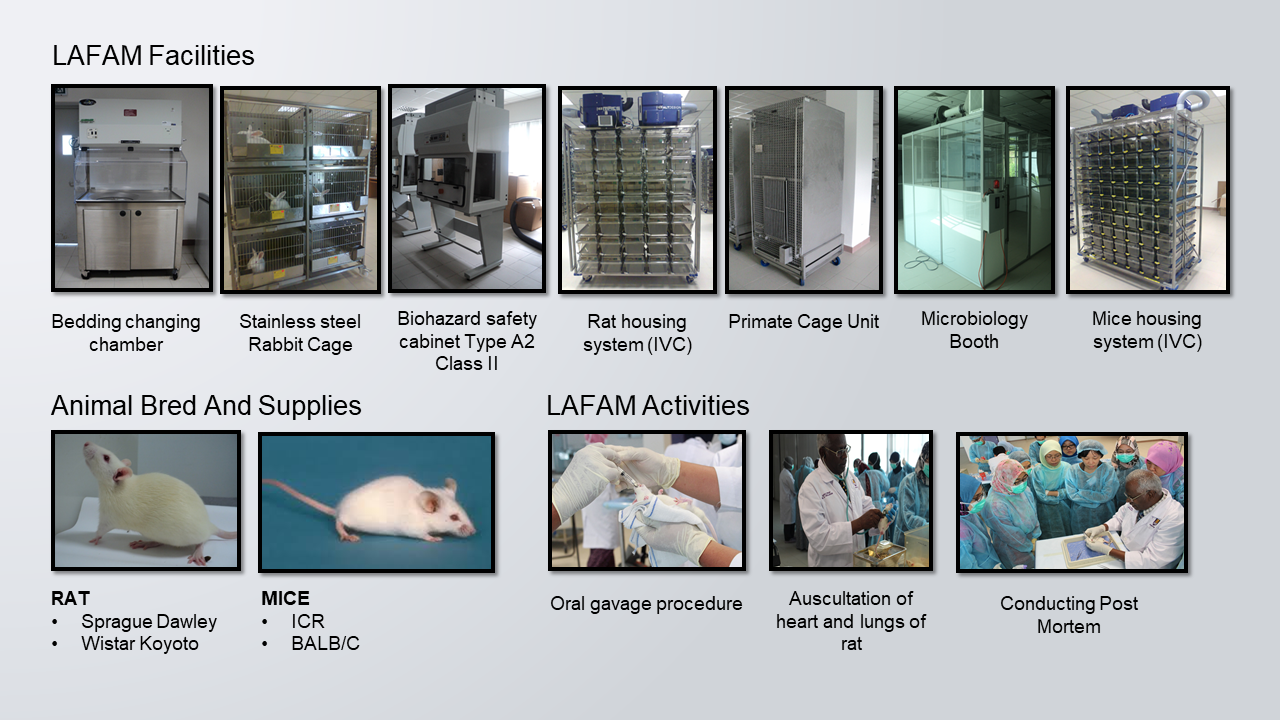 2022
15th workshop on laboratory rodents (rats and mice) care and use 2022 (22nd -23rd February 2022)
5th Laboratory Animal Workshop on Rabbits 2022 (29th – 30th March 2022)
16th workshop on laboratory rodents (rats and mice) care and use 2022 (28th - 29th June 2022)
2021
14th workshop on laboratory rodents (rats and mice) care and use 2021 (Online Webinar- Theory- 29th 30th July 2021 & Hands-on 17 November 2021)
8th special course for undergraduates on laboratory rodents (rats and mice) care and use 2021 (15 December 2021)
2020 (MCO)
13th workshop on laboratory rodents (rats and mice) care and use 2020
(Google meet- online lectures 26th – 29th September 2020)
13th workshop on laboratory rodents (rats and mice) care and use 2020
(Hands on session 1) (30th September 2020)
(Hands on session 2) (22th December 2020)
2019
11th Workshop on Laboratory Rodents (Rats and Mice) Care and Use 2019 (26th & 27th March 2019)
12nd workshop on laboratory rodents (rats and mice) care and use 2019 (6th & 7st August 2019)
1st Workshop on Clinical Parasitology of Laboratory Animals (Mice, Rats and Rabbits) (24th & 25th September 2019)
4th Workshop on Laboratory Rabbits Care and Use 2019 (22nd & 23rd October 2019)
7th special course for undergraduates on laboratory rodents (rats and mice) care and use 2019    (20th & 22nd Nov 2019
2018
6th Special Course for Undergraduates on Laboratory Rodents (Rats and Mice) Care and Use 2018 (27th March 2018)
3rd workshop on laboratory rabbits care and use 2018 (14th – 15th May 2018)
9th workshop on laboratory rodents (rats and mice) care and use 2018 (24th – 25th April 2018)
10th workshop on laboratory rodents (rats and mice) Laboratory care and use 2018 (25th –26th September 2018)
Sharing Session on Animal Welfare for Better Research
Reservation Application Form
EQUIPMENTS
CHARGE RATE (RM)
UNIT CHARGE
UiTM
PUBLIC INSTITUTE
PRIVATE INSTITUTE & INDUSTRIAL
Mouse Housing System
Individually Ventilated Cages = 140 cages
cage / month
150
200
250
Alt Design
Individually Ventilated Cages = 140 cages
ivc / month
18000
23500
30000
Rat Housing System
Individually Ventilated Cages = 70 cages
cage / month
300
400
500
Alt Design
Individually Ventilated Cages = 70 cages
ivc / month
20000
27000
35000
Conventional Cage Holding Rack for Mice

Drinking Bottle
Steel Cover
Cage

per month
45
60
75
Conventional Cage Holding Rack for Rat

Drinking Bottle
Steel Cover
Cage

per month
60
80
100
Stainless Steel Rabbit Cage System

Drinking Bottle
Food Tray
Cage Liner
Cage

per month
180
240
300
Rabbit Cage & Holding Rack

Drinking Bottle
Food Tray
Cage Liner
Cage

per month  
180
240
300
Primate Cage Unit
per month
210
275
360
Glove Box / Isolator
per month
450
600
750
Biohazard Safety Cabinet
per month
450
600
750
Metabolic Cages
per month
45
60
75
Bio Bubbles Bio-Booth 6 m x 5 m
per month
27500
35000
46000
Bio Bubbles Bio-Booth 5 m x 4 m
per month
18000
24000
30000
Bio Bubbles Bio-Booth 4 m x 4 m
per month
15000
19000
25000
Bio Bubbles Bio-Booth 5.5 m x 3 m
per month
15000
20000
25000
Bio Bubbles Bio-Booth 5.5 m x 5 m
per month
25000
33000
42500
Top Pan Balance
per month
450
600
750
Chest Freezer
per month
230
300
400
Ultra-Low Freezer -86c
per month
300
400
500
Glassware Washer
per month
240
300
400
Animal Balance
per month
160
200
270
Surgical Set

Operating Scissors (Sharp/Blunt)
Iris Scissor
Dressing Forceps
Dressing Forceps (Straight/Sharp)
Scalpel Handle (No.3)
Scalpel
Probes
Angled Seeker Probe
Surgical Blade

per month
35
50
65
Plastic Forceps
per month
5
6.50
8.50
Iris Forceps (Curved) Sharps
per month
5
6.50
8.50
Gavage (Oral Needle) Size 16
per month
15
20
25
Gavage (Oral Needle) Size 20
per month
15
20
25
Dissecting Kit

4½ Inch – Iris Dissecting Scissors
Fluted Handle Scalpel with Blade
4½ Inch-Angled Iris Forceps
4½ Inch-Straight Dressing Forceps
Angled Mall Probe
Teasing Needle / Sharp Probe
6 Inch- Ruler

per month
20
26
34
Scalpel Handle No.3
per month
5
6.50
8.50
Scalpel Handle No.4
per month
5
6.50
8.50
Dressing Forceps
per month
5
6.50
8.50
Dressing Scissors
per month
5
6.50
8.50
Curved Kelly Hemostatic Forceps
per month
5
6.50
8.50
Microscope
per day
25
33
43
                                      **1  Service Does Not Include Chemicals / Disposal Materials
Per day
8am – 5pm
 
 
 
Per session
2 days workshop
 
 
 
Per week
5 days
 
 
 
ANIMALS
UNIT CHARGE
CHARGE RATE (RM)
UiTM
PUBLIC INSTITUTE
PRIVATE INSTITUTE & INDUSTRIAL
ICR
per weaning
6.00
12.00
18.00
per adult 
15.00
19.00
24.00
BALB/C
per weaning 
6.00
12.00
18.00
per adult 
15.00
19.00
24.00

SD Rat

Sprague Dawley Rat

per weaning 
15.00
20.00
26.00
per adult 
28.00
36.00
47.00

WKY Rat

Wistar Kyoto Rat

per weaning 
18.00
24.00
31.00
per adult 
30.00
40.00
52.00
| | | |
| --- | --- | --- |
| Type of Animal | Weaning (Weight, g) | Adult |
| Mice | 19-21 days (10-12 g) | > 13 g |
| Rat | 19-21 days (40-60 g) | > 61 g |
RAW MATERIALS
UNIT CHARGE
CHARGE RATE (RM)
UiTM
PUBLIC INSTITUTE
PRIVATE INSTITUTE & INDUSTRIAL
Mouse Pellet 50 kg
per beg
220.00
290.00
380.00
per kg
7.00
10.00
12.00
Corn Cob 18kg
per beg
170.00
220.00
290.00
per kg
12.00
16.00
20.00
Drinking water (RO WATER)
per litre
1
1
1.30
PPE
per pcs
1.50
2.00
2.50
PPE
per pcs
5.00
6.50
8.50
PPE
per pcs
1.00
1.30
1.70
SERVICES
UNIT CHARGE
CHARGE RATE (RM)
UiTM
PUBLIC INSTITUTE
PRIVATE INSTITUTE & INDUSTRIAL
Anaesthetic
0.1 ml
10.00
13.00
16.00
Blood Sampling
Orbital Sinus
per rat
1.50
2.00
2.50
per mice
1.00
1.30
1.70
Blood Sampling
Tail
per rat
1.50
2.00
2.50
per mice
1.00
1.30
1.70
Blood Sampling
Facial
per rat
1.50
2.00
2.50
per mice
1.00
1.30
1.70
Blood Sampling
Cardiac Puncture
per rat
1.60
2.10
2.70
per mice
1.50
2.00
2.50
Anaesthetic Injection
per sample
1.60
2.10
2.70
Post-mortem Conducted by Veterinarians with report
per mice
10.00
13.00
17.00
per rat
10.00
16.00
20.00
Organ Sampling for Animal Study
heart
2.00
2.60
3.50
liver
2.00
2.60
3.50
lung
2.00
2.60
3.50
kidney
2.00
2.60
3.50
Reproductive Organ Sampling
per rat
2.00
2.60
3.50
per mice
2.00
2.60
3.50
Handling / Animal Carcass Storage
per rat
2.50
3.30
4.20
per mice
1.50
2.00
2.50
per rabbit
15.00
20.00
25.00
Removal / Killing Animal
Killing Technique based on type of animal
per rat
3.00
3.90
5.00
per mice
2.50
3.30
4.20
per rabbit
10.00
13.00
17.00
Removal / Killing Animal Euthanasia using CO2 Chamber
per rat / mice
1.00
1.30
1.60
Animal Care Study 1- 4 per animal / Mice cages and Rat
Feeding food and drink, with changing bedding in cage / day
15.00
20.00
25.00
Ectoparasite & Endoparasite Sampling Conducted by Veterinarians with report
per animal
45.00
59.00
77.00

Laboratory Animal Facility and Management (LAFAM)
Faculty of Pharmacy
UNIVERSITI TEKNOLOGI MARA Selangor
Kampus Puncak Alam
42300 Bandar Puncak Alam
SELANGOR
Fax : 03-3258 4602

Assoc. Prof. Dato' Dr. S.Vellayan
Coordinator
Tel : 03-3258 4701/4689
H/P : 013-624 6918

e-mail: This email address is being protected from spambots. You need JavaScript enabled to view it.
Dr. Nursakinah Binti Latifi
Veterinary Officer
013-314 1553
e-mail: This email address is being protected from spambots. You need JavaScript enabled to view it.