Histology unit of the Faculty of Pharmacy, Universiti Teknologi Mara (UiTM) Puncak Alam Campus have all the facilities to run a histology sample. The faculty welcome to all researcher to use our equipment for research purpose.
Histology Overview

Histology is the study of tissues and organs through the examination of the microscopical architecture of tissues and the relationship between the different types of cells and tissue types found within tissues and organs.
In order to study tissues with a microscope they must be preserved (fixed) and cut into sections thin enough to be translucent. Normally tissue will be fixed in a formalin solution.
Following fixation, blocks of tissue must be cut into thin sections. One way is to make a firm block by dehydration in alcohols and infiltration with paraffin, or some similar agent - a process called embedding. Sections 3 to 10 microns (3 to 10 thousand of a millimeter) in thickness are cut on steel knives mounted in an instrument called a microtome, which has a precise mechanical advance.
The sections are stained with H & E staining and view under light microscope.
In order to preserve the section which has been made from a block of fixed tissues and stained, it is mounted on a glass slide and covered with a thin cover glass by means of a transparent substance which hardens and seals the preparation to make it permanent.
Services provided by Histology Unit

Processing
Embedding
Sectioning
Staining (H&E)
Image acquisition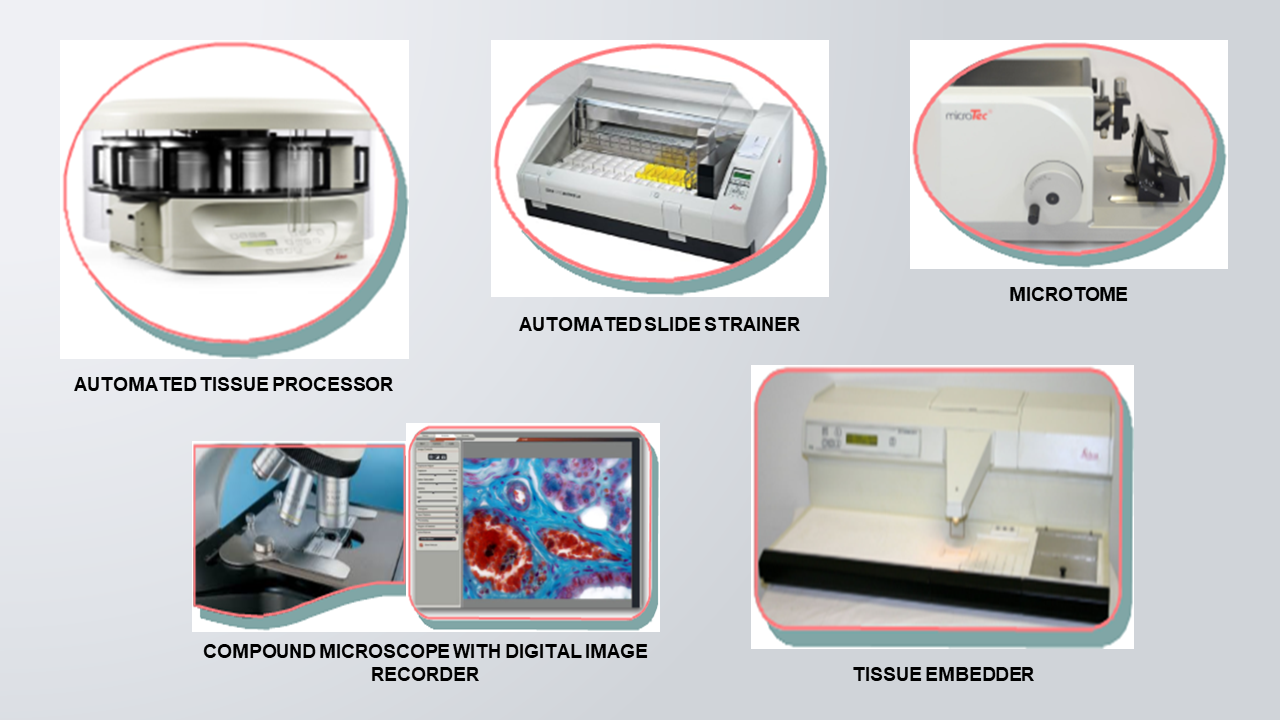 Automated Tissue Processing -Brand Leica TP1020
Tissue Embedding -Brand Leica EG 1160
Microtome -Brand MictoTec CUT 4060/Leica RM2245
Water Bath -Brand Leica HI1210
Hot plate -Brand Leica HI1220
Automated Slide Stainer -Brand Leica Autostainer
Compound Microscope with Complete Digital Image -Brand Leica DM2500
EQUIPMENTS

CHARGE RATE (RM)

UNIT CHARGE

UiTM

PUBLIC INSTITUTE

PRIVATE INSTITUTE & INDUSTRIAL

Processing:

Automatic Tissue Processor & Consumable

per sample

6

6

6

Embedding:

Tissue embedding & Consumable

per sample

6

6

6

Sectioning:

Microtome & Consumable
Water Bath
Hot Plate

per slide

5

6

6

Staining:

Automated Slide Stainer & Consumable

per slide

5

6

6
Faculty of Pharmacy,
UiTM Selangor, Puncak Alam Campus
42300 Bandar Puncak Alam
Selangor, MALAYSIA
Fax No: +603-32584602


HEAD OF HISTOLOGY UNIT
Dr Siti Syairah Mohd Mutalip
Phone no: +603-3258 4721
E-mail: This email address is being protected from spambots. You need JavaScript enabled to view it.
Fax: +603-32584602
SLIDE VALIDATION OFFICER / DEMONSTRATOR
ASSISTANT SCIENCE OFFICER
Azurah Bt Dollah
Phone no: +603-3258 4794
Fax: +603-32584602
E-mail:  This email address is being protected from spambots. You need JavaScript enabled to view it.