Imaging Centre (iMAGE) was established in year 2008 and fully operational in year 2009. It is located at Level 1, FF3 Building, Faculty of Pharmacy, UiTM Cawangan Selangor, Kampus Puncak Alam
The centre provides access to state-of-the-art facility which includes JEOL JSM-6701 FESEM, Tecnai G2 20S Twin TEM, Laser Confocal Scanning Microscope, Quanta 450 FEG ESEM and Ultramicrotome with cyrochamber.
iMAGE also contribute to the faculty's research output, plays a vital role in supporting the microscopy aspect. We provide research community with leading instruments and expertise for exploring the structure of samples from physical to biological samples.
Our services encompass a variety of modern facilities that exploit the microscopy and microanalysis from collimated beams including those of electrons, X-rays, ions, light and lasers. We offer training and workshop in microscopy and microanalysis to users


1. Field Emission Scanning Electron Microscope (FESEM) (Jeol JSM-6701F)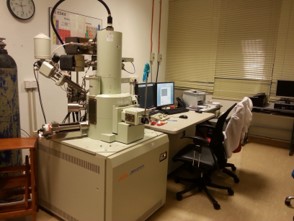 Mode available:
EDS Analysis
Mapping analysis
Point scan analysis
Line scan analysis
2. Transmission Electron Microscopy (TEM) 200kV (FEI TECNAI G2 20S TWIN)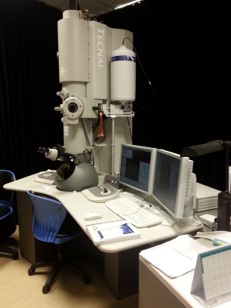 Ultra structure analysis of the material and biological sample
Diffraction pattern
STEM-EDS
mapping analysis

point scan analysis
line scan analysis
3. Environmental Scanning Electron Microscope (ESEM ) (FEI Quanta 450 FEG)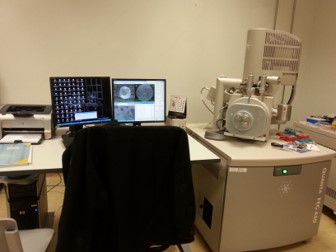 Surface morphology analysis of biological and material sample
Mode available:
Detectors
Secondary electron detectors (SED)
Larges field low vacuum (LFD)
Gaseous SED (GSED)
4. Confocal Laser Scanning Microscope (Leica TCS SPE)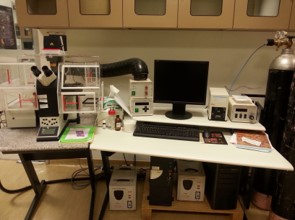 Fluorescence imaging of live or fixed cell
Mode available
2D Scan analysis
3D Scan analysis
Live cell imaging
Solid State Laser

     Two standard filter (FITC and Rhodamine)
Reservation Application Form
EQUIPMENTS/SERVICES

TYPE OF ANALYSIS

UiTM

GOVERMENT

PRIVATE

 Scanning electron microscope (SEM)

Sample preparation

80.00

85.00

100.00

Sputter coater

50.00

55.00

60.00

SEM viewing- high vaccum

250.00

300.00

350.00

SEM viewing - low vaccum

250.00

300.00

350.00

ESEM viewing

420.00

460.00

500.00

FESEM viewing

300.00

380.00

450.00

FESEM + EDX / Mapping

500.00

550.00

600.00

 Transmission Electron Microscope (TEM)

Sample preparation

200.00

250.00

300.00

TEM viewing

245.00

255.00

290.00

Negative staining / material sample

50.00

55.00

60.00

TEM + STEM + EDX

600.00

620.00

640.00

TEM+STEM

500.00

520.00

550.00

TEM + HRTEM

450.00

470.00

500.00

HRTEM

400.00

420.00

450.00

 Ultramicrotome

Semithin (Toluidine Blue)

40.00

38.00

41.00

Ultrathin ( Uranyl + lead staining)

100.00

150.00

200.00

Cryo- microtome

150.00

180.00

200.00

Glass knife

15.00

20.00

25.00

Carbon coated cooper grid / formvar grid

25.00

28.00

31.00

 Confocal Microsocope (CLSM)

CLSM viewing (perhour)

200.00

250.00

300.00

Confocal for live cell imaging (perday)

200.00

250.00

300.00

Flourodish

40.00

40.00

40.00

 Cryostat
Per sample
 40.00
50.00
60.00
 Microscope
Per day
80.00
120.00
200.00
Faculty of Pharmacy,
UiTM Selangor, Puncak Alam Campus
42300 Bandar Puncak Alam
Selangor, MALAYSIA
Contact no: +603-3258 4703 / 4898 / 4744
Fax: +603-32584602
E-mail : This email address is being protected from spambots. You need JavaScript enabled to view it.