Written by: Dini Hussayni binti Bassri & Norazlin Ashirin binti Anuar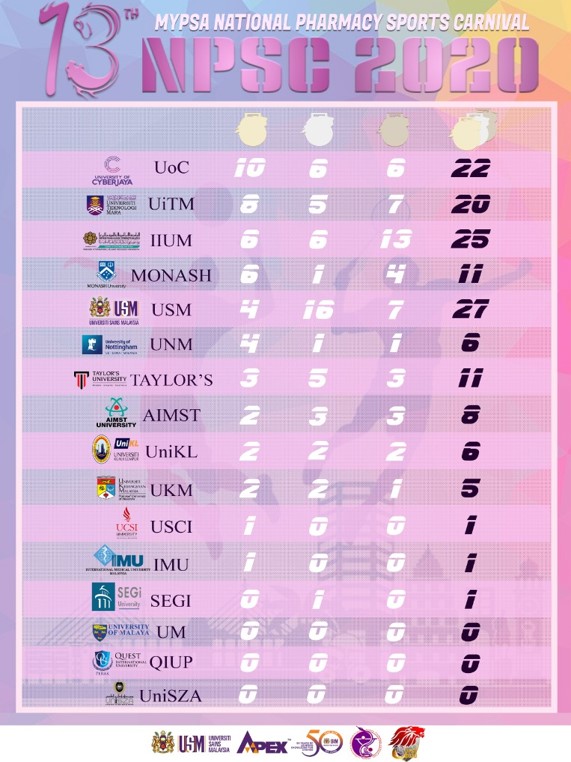 13th MyPSA National Pharmacy Sports Carnival (NPSC) 2020 is conducted annually by Malaysian Pharmacy Students Association (MyPSA). For this year, Faculty of Pharmacy of Universiti Sains Malaysia (USM) is chosen to host this 13th MyPSA NPSC 2020. It was held for three days, from 21st to 23rd February 2020. This 13th MyPSA NPSC 2020 was actively participated by students from six public and 10 private universities.
This event mainly offers a good social and communication skills among pharmacy students specifically which come from different background of universities. Besides, this can be proven that pharmacy students are able to associate themselves in sports despite their compact schedules in campus. Apart from that, the participants come from different races. Hence, this will build up the spirit of unity as Malaysians.
The games played included track and field, badminton, basketball, swimming, chess, e-sport games and futsal. Gratefully, Uitm managed to secure gold medals in a few games such as volleyball, tennis, netball, ping pong, track and field as well as petanque. As an overall standing, UiTM succeed in taking place as runner-up for 13th MyPSA NPSC 2020. Last but not least, a high level of appreciation and congratulations to all 117 participants that represent UiTM for 13th MyPSA NPSC 2020