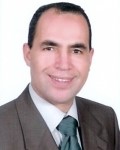 Professor
PROF. DR. AHMED MAHMOUD AHMED ALAFIFY
General Info:-
Level 11 FF1 Building
Faculty of Pharmacy
UiTM Puncak Alam Campus
42300 Bandar Puncak Alam, Selangor. Malaysia
Phone: +603-3258 4815

Primary Email : This email address is being protected from spambots. You need JavaScript enabled to view it.


Qualification:-
PhD (PHARMACEUTICAL ORGANIC CHEMISTRY), HELWAN UNIVERSITY-2005;
MASTER OF PHARMACEUTICAL SCIENCE (PHARMACEUTICAL CHEMISTRY), ALAZHAR UNIVERSITY-1991;
BACHELOR OF PHARMACEUTICAL SCIENCE (PHARMACEUTICAL SCIENCE), ZAGAZIG UNIVERSITY -1983.
Teaching Area:-
 PHC414: FUNDAMENTALS OF PHARMACEUTICAL CHEMISTRY [TUTORIAL & PBL]
Research Interest:-
THE APPLICATION OF MODERN METHODS AND TECHNIQUES FOR THE DEVELOPMENT OF DRUGS TO COMBAT CANCER AND VIRAL DISEASES.
THE DEVELOPMENT OF A BIOCHEMICAL RATIONALE FOR THE PREPARATION OF ANTITUMOR DRUGS FOCUSING ON QUALITATIVE DIFFERENCES BETWEEN NORMAL AND CANCEROUS CELLS.
THE DEVELOPMENT OF SOME OF THE BIOLOGICALLY ACTIVE ANTIVIRAL, ANTICANCER AND ANTIOXIDANTS FROM NATURAL SOURCES.