Sterile Lab 3 is one of the labs under Department of Pharmacy Practice in Faculty of Pharmacy, Universiti Teknologi MARA (UiTM) Cawangan Selangor, Puncak Alam Campus.  It is located at level 4, FF3 building, Faculty of Pharmacy.
Sterile Lab 3 functions as teaching & learning lab.
The courses associated are Hospital Pharmacy and Pharmaceutical Care. The lab is also used for In-house Training for clinical attachment of final year students.
This lab focuses mainly on:
Sterile Procedure /Aseptic Technique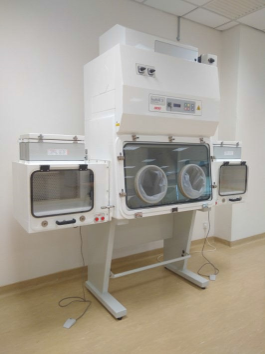 Cytotoxic Dispensing Isolator
Reservation Application Form
EQUIPMENTS
CHARGE RATE (RM)
UNIT CHARGE
UiTM
PUBLIC INSTITUTE
PRIVATE INSTITUTE & INDUSTRIAL

Cytotoxic Dispensing Isolator

per day
300
450
600
Faculty of Pharmacy,
UiTM Selangor, Puncak Alam Campus
42300 Bandar Puncak Alam
Selangor, MALAYSIA
Fax No: +603-32584602

SENIOR SCIENCE OFFICER
Mr. Fairos Abdul Hamid
03-3258 4845
This email address is being protected from spambots. You need JavaScript enabled to view it.
Laboratory supervising & monitoring
ASSISTANT PHARMACY OFFICER
Mr. Muhammad Hamdi Othman
03-3258 4704
This email address is being protected from spambots. You need JavaScript enabled to view it.
Assisting Equipment's Operation & Handling